Sewer Service
A home's main sewer runs from the house to the mainline sewer in the street. Maintaining the sewer system is the City's responsibility. Maintaining the main sewer is the property owner's responsibility. It's important to keep roots or other obstructions from blocking a home's main sewer.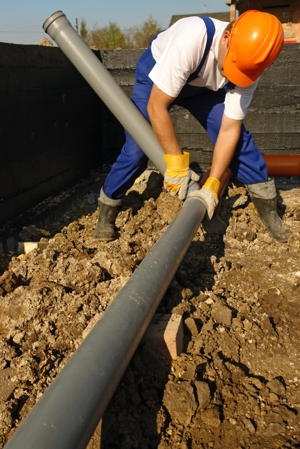 When it comes to sewer cleaning, repair and replacement needs, Davis Jr. Plumbing, Inc. is ready to respond to you any time of day, or night. Our plumbing specialists can diagnose - and solve - your drain and sewer line problems quickly and professionally. We specialize in fast, friendly service using the latest technology and products to get the job done right.
We are fully licensed and insured, and our company invests in the most effective sewer drain cleaning equipment the industry has to offer. We guarantee that when you choose Davis Jr. Plumbing, Inc., you'll receive faster, higher-quality service for a better price than other companies. Since opening, we have been dedicated to providing quality workmanship and satisfaction to all of our customers.
At Davis Jr. Plumbing, Inc., we offer friendly, professional service 24 hours a day, seven days a week - call us before you dig. We can even show you the problem with your sewer line with our in-line sewer camera. We have the answers to all your sewer questions.
At Davis Jr. Plumbing, Inc. provide free estimates anytime to help you with sewer or tree root problems. We will snake or pump your sewer or septic lines with no hidden costs - you even approve the price before we start tree root extraction.
Our number-one goal at Davis Jr. Plumbing, Inc. is the satisfaction of our customers. Our prompt response, premium-quality products and professional workmanship will give you peace of mind - without breaking your budget.
How to Prevent Serious Health Problems from a Sewer Backup
Turn off all power to eliminate electrical hazards.
Keep children and pets away from the area.
Thoroughly clean the contaminated area. Use rubber gloves and disinfectants.
Discard saturated wall-to-wall carpet and pad; clean all hard surfaces with hot water and soap, then rinse with a bleach solution of one tablespoon of household bleach to one gallon of water.
---
Contact Davis Jr. Plumbing
~ 24 Hr Emergency Service ~
Lee County (239) 558-8599 * Collier County (239) 462-7737
"Affordable Plumber Prices"
~ On-Site Free Plumbing Estimates~
Plumber Cape Coral, Fort Myers, Naples, Bonita Springs, FL