Backflow Testing & Repair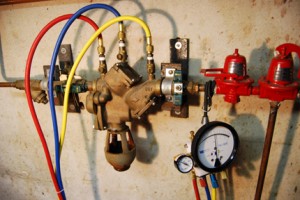 A backflow prevention assembly is used to protect water supplies from contamination or pollution due to backflow. In water supply systems, water is normally maintained at a significant pressure to enable water to flow from the tap, shower etc. When pressure fails or is reduced as may happen if a water main bursts, pipes freeze or there is unexpectedly high demand on the water system, the pressure in the pipe may be reduced and may allow contaminated water from the ground, from storage or from other sources to be drawn into the system.
To prevent contamination due to back p-ressure, Florida State Law requires an air gap or mechanical backflow prevention assembly between the delivery point of mains water and local storage or use. Where submerged mains inflow is permitted a backflow prevention assembly is required, which protects the potable water system from contamination hazards. These hazards can be severe, some cases can be fatal. In many counties where regulations allow for the possibility of backflow, approved backflow prevention assemblies are required by law and must be installed in accordance with plumbing or building codes.
Florida state law mandates that all backflow prevention devices be tested annually. At Davis Jr. Plumbing, Inc. we follow the legally binding rules of procedure adopted by governmental agencies and comply with Florida laws,

FAC Chapter 62-550 - "Drinking Water Standards, Monitoring & Reporting"

and

FAC Chapter 62-555 - "Permitting, Construction, Operation & Maintenance of PWS's".
Davis Jr. Plumbing, Inc. provides conveniently scheduled backflow testing, repair and installation services to Charlotte, Lee, and Collier counties. We pride ourselves on educating you, the water customer, on how to reduce the risk of inadvertently contaminating your private or the public water supply.
By having the backflow tested annually, you will help to ensure the drinking water supplied to your home remains safe.
At Davis Jr. Plumbing, Inc., we have certified backflow assembly testers on staff, who have attended a rigorous training program and are certified by the University of Florida to inspect, test and repair all backflow assemblies and devices.
---
Contact Davis Jr. Plumbing
~ 24 Hr Emergency Service ~
Lee County (239) 558-8599 * Collier County (239) 800-2440
"Affordable Plumber Prices"
~ On-Site Free Plumbing Estimates~
Plumber Cape Coral, Fort Myers, Naples, Bonita Springs, FL